Donors help to bring hope to people living with MS
Living with multiple sclerosis can be challenging and sometimes scary. Even when the disease isn't progressing, there is always a "what if" in the back of the mind. Over the last 25 years, research has identified numerous therapeutics that have slowed disease progression and created a basis for future research. Discoveries made through this research provide tremendous hope for people living with MS.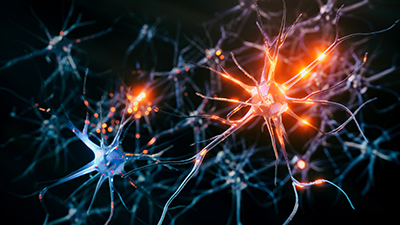 Recently long-time supporters of Providence MS Center, Bonita and Greg Gorsche, made a leadership gift to kickoff fundraising to create an endowed MS research chair. The highest priority for Stanley Cohan, M.D., Ph.D., medical director of Providence MS Center, is to ensure that MS research will continue well into the future, and this endowment is the first step toward that goal.
Once fully funded, the endowment will support a full-time research chair who will accelerate MS research at Providence and promote the independent nature and creativity of investigator-initiated research. The Gorsches' gift and others to the endowment are key to unlocking new discoveries and treatments.
"As our team looks to the future, we believe our donors will help us shut down MS safely and effectively," says Dr. Cohan.
Research plays a critical role in clinical care, expanding the general knowledge of MS and influencing therapeutic recommendations by physicians around the world. The team at Providence seeks new and novel therapeutic agents for MS. Much of this innovative, translational research is funded through philanthropic support.
Update on innovative research
At present, our research team is working on more than 20 clinical trials. Much of our research is funded entirely by Providence Foundations of Oregon donors and the MS community. We are very grateful for your support. Our current clinical trials include:
A software called Icometrix uses the power of artificial intelligence to measure subtle changes in disease progression that are undetectable with previous technology. With this technology to monitor patient responses to different medications, clinicians can detect subtle changes in the brain that previously were not detectable.
A study called Geno4ME provides genomic sequencing of each patient at Providence MS Center. From this research, we hope to learn how to predict which medications will work best for each patient along with many other applications, such as whether a patient's risk and/or severity of disease can be determined based upon their genome.
In addition, Providence MS Center operates four registries that help identify patients with MS, track their disease progression and treatments, and measure the use and effectiveness of medications. Anyone with MS is encouraged to contact our center at 503-216-1150, and we will help them enroll in one or more of these registries.
Providence MS Center: the future

Our scientists and MS investigator colleagues around the world are achieving major, actionable insights based on discoveries in molecular biology, genomics, immune mechanisms and virology research.
It is not unrealistic to predict that in the next several decades we will learn what causes MS – likely a combination of genetic, infectious and environmental factors, and possibly exposure to certain toxins.

Your support is a key factor in learning more about MS and developing innovative, new treatments. To learn how you can help make MS research possible, please contact Dawn Johnston, director of development at
dawn.johnston@providence.org
.