'Care Ecosystem' dementia program receives NIH grant, donor support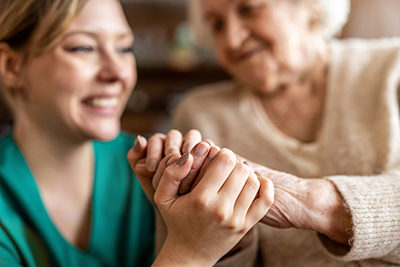 Providence and other health care partners helped launch Care Ecosystem in 2021, which supports people with dementia and their families. The program is supported by a generous Providence Foundations of Oregon donor, plus a new $7.6 million grant from the National Institutes of Health.
There are more than 6.5 million people in the U.S. who live with dementia. These vulnerable patients and their family caregivers don't always receive the support they need.
That's why Providence Senior Health and Providence Brain and Spine Institute teamed up to bring Care Ecosystem to Oregon. This care model improves quality of life for people with dementia and their caregivers.
How the program works
The $7.6 million NIH grant supports research on the Care Ecosystem program at six health systems in the U.S. Participants in the research grant include the University of California San Francisco (lead organization), Providence, large non-profit health systems in Los Angeles and Colorado, and others.
Providence Foundations of Oregon has received generous support from the JTMF Foundation to help launch and expand Providence's participation in Care Ecosystem.
Under Care Ecosystem, monthly phone check-ins are conducted by specially trained navigators who are supported by a team of providers, nurses and a social worker with dementia expertise. Together, they work closely with eligible patients and families who are referred by their primary care provider.
Feedback from family caregivers
A patient's daughter received help explaining the dementia diagnosis to her mom's spouse. "It feels good to know if I need to, I can call you. I appreciate all the information you shared with me."

A family caregiver felt overwhelmed during a patient's hospitalization.

"I reached out to the navigator because she already knows our situation."

Monthly check-ins from the navigator reduce feelings of isolation.

"It makes me feel like I'm not so alone. It's nice to know someone else is out there who cares about us.