Our Providence Festival of Trees volunteers deserve special thanks and recognition. Their participation has always been vital to the success of this annual event, which has become a tradition in southern Oregon.
If you choose to volunteer for Providence Festival of Trees, you will join other dedicated people who bring this festival to life.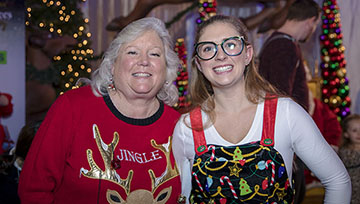 Site Preparation and Decoration
Site decorators
Help decorate the venue, doing tasks such as stringing lights and garland, decorating the lobbies, and more.

Installation crew
Set up the event, unload supplies, unpack boxes, categorize supplies, assist with installation of display pieces, and more.

Public Viewing
Entrance ticket sellers / ticket takers
Greet the public, sell tickets and answer questions.

Raffle ticket sellers
Greet the public, be a salesperson and provide information.

Tree angels
Watch over tree displays to help prevent breakage and answer questions.

Pack-up Crew
Prepare trees for delivery
Deliver Trees to auction winners
Dismantle displays and do general clean-up.