Caregiver Development
Since the beginning of the pandemic, 20% of frontline caregivers have left the health care industry. You can develop the next generation of health care experts by helping provide access to continuing education, training and support for caregivers looking to grow their skills and take the next steps in their health care careers.
Give Now
Providence caregivers: the caring difference you can feel
The health care industry has gone through significant change, especially in the past three years. Our frontline caregivers have experienced some of the most difficult times in their careers with the COVID-19 pandemic. They have gone above and beyond to help those in need. It's our turn to help.

Donations provide professional development opportunities and scholarships for our caregivers to study for advanced health care degrees or to participate in certificate programs. As we face record shortages of health care professionals, we need to invest in our caregivers and provide opportunities for growth. Your gifts can make a dream come true for a dedicated Providence caregiver and help build our health care workforce for the future.
Career Development
Support our caregivers as they seek to build their skills and careers.
Specialized and dedicated clinicians
Support our clinicians to advance their practice, enhance their skills and specialties, support their well-being and provide best practice resources.
Nursing Scholarships
Provide much-needed financial support to the next generation of nurses.
---
Alex's Journey: From access services to bedside care as a nurse
Alex Edwards always wanted to work in a hospital and provide patient care. Today that's a reality.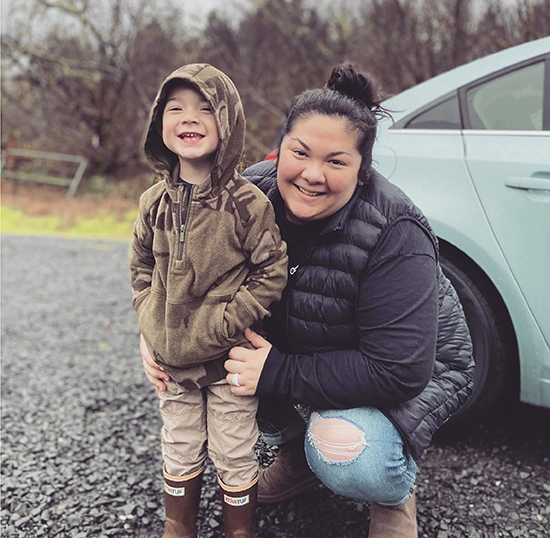 When she was younger, Alex's grandfather spent a lot of time in an out of hospitals and she remembers visiting him and seeing the variety of staff that created positive and negative experiences for him and her family. "I've been on the other side as a patient, granddaughter, daughter, and mother and know how much difference a nurse can make," says Alex. "I wanted to be a health care member who could offer the kind of care I wanted for my own family."
Today, that goal of providing bedside care is a reality thanks to Alex's hard work, dedication, and a little help from Providence.
When Alex moved to the North Coast, Providence Seaside was the closest hospital to where she lived and a few people she knew who worked here had great things to say about it.
Alex's journey with Providence began in 2017 when she was hired and joined the access services team working in the front lobby and the emergency department. After some time, she started assisting with diagnostic imaging orders and scheduling. In 2019 she made the transition into the emergency department as a technician. Alex recalls working on-call and picking up shifts as needed while she completed prerequisites for the nursing program at Clatsop Community College. She was soon accepted into the program and graduated last June.
"I remember when I saw an email about the foundation's scholarship opportunities, I immediately applied," says Alex. "I was fortunate to be granted the scholarship that assisted me in my final year of nursing school."
Alex shares that her transition from ER tech to RN in med/surg has been great. "I felt my experience as an ER tech assisted me in my success in the nursing program and my comfort level as a nurse. I had the confidence to enter the patient's room and communicate with my colleagues," explains Alex. "With the help of my experience I've been able to be signed off on orientation a bit earlier and that's made my transition into my new role feel smooth."
When asked what she likes best about being a nurse at Providence Seaside, Alex quickly points out the amazing group of people with a variety of experiences in our ministry that she considers an honor to work alongside with.
"I love being able to help treat and care for a community as unique as ours and experience all we have to offer as a rural hospital."
Benedictine Nursing Center Foundation

Make a gift today to support caregiver education

Community Health Foundation - So. Oregon

Make a gift today to support caregiver education

Milwaukie Foundation

Make a gift today to support caregiver education

Newberg Health Foundation

Make a gift today to support caregiver education

Seaside Hospital Foundation

Make a gift today to support caregiver education

Willamette Falls Medical Foundation

Make a gift today to support caregiver education