Providence Neuro-Oncology
The vision of the Providence Neuro-Oncology program is to care for the whole person before, during and after treatment, to help people live longer with brain cancer and to create and participate in brain cancer research to find effective treatment options that do not damage the brain.
Make a gift
Brain Cancer Research: Pursuing better options for care
Despite more than 40 years of cancer research, only 1-in-3 patients diagnosed with an aggressive brain cancer will survive more than five years. The relative survival rate has not significantly increased for these patients in that time. One of the major challenges in treating brain tumors is that most medication cannot reach the cancer. The blood-brain barrier allows essential substances like oxygen and glucose to pass through while protecting the brain from many diseases and substances. But it blocks 95% of chemotherapies given orally or intravenously.
And while treatment may save the patient's life, radiation and surgery can damage surrounding brain tissue responsible for essential functions. Many patients experience complications that can last the rest of their life.
Fighting Brain Cancer from Every Angle
Providence offers a team of specialists experienced in the specific challenges associated with brain cancer and tumors. Led by medical director Prakash Ambady, M.D., the team includes Neuro-oncology physicians and nurses, social workers, and a patient navigator.
The program treats patients with the goals of preserving quality and dignity of life while providing enhanced delivery of care, offering advanced imaging services and protecting essential functions such as vision, hearing and mobility. Approximately 250 patients and their families are cared for annually.
Neuro-Oncology Research: $250,000 needed
The Neuro-Oncology team is set to partner with Providence Cancer Institute researchers to offer new clinical trials to patients with brain cancer. By increasing our understanding of the blood-brain barrier and various immunotherapies, we hope to offer effective treatments that are much less toxic.
Our team is also focused on translational research efforts, which uncover and test promising new treatments for aggressive brain tumors. Your gift will help us seek effective treatments for brain cancers.
Kathryn M. Smith Memorial Fund to foster Innovation in Brain Cancer Research
Kathryn Smith was enjoying a successful 25-year career at Nike, traveling the world and making lots of friends along the way, when she was diagnosed with cancer. This bright, thriving woman was 47 years old when she learned she had a fast-growing, aggressive type of brain cancer called glioblastoma multiform or GBM. In just seven months, the cancer took Kathryn's life.
In December 2022, Larry and Margaret Smith established the Kathryn M. Smith Memorial Fund for Innovation in Cancer Research in honor of their only child. "We thought long and hard about what we could do to honor Kathryn's life, and how to use the resources she accumulated by her hard work and left to us. This was the first thing that made sense. We think she would want to support research that may help someone else one day."
Learn More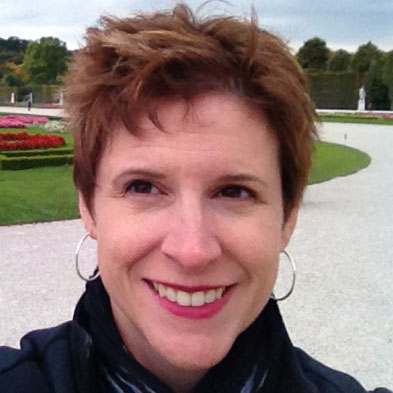 Get in Touch

Interested in learning more or taking a tour?
Please reach out to Dawn to learn how you can support the Neuro-oncology program.