Winemaker's cancer journey produces "Providencia"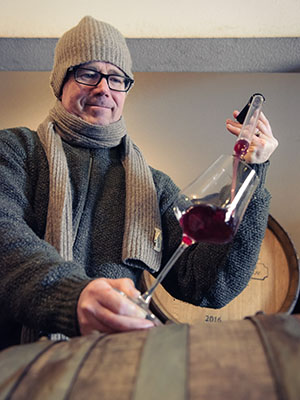 For 23 years, Brad and Kathleen McLeroy have made Ayres Vineyard a premier winery of Ribbon Ridge in the
Willamette Valley. Brad leads every aspect of production, from tending vines to bottling wine.
During the harvest of 2018, Brad felt unusually fatigued and found a lump on his neck. A biopsy revealed he had
oropharyngeal cancer.
Every cancer diagnosis is devastating. But for a winemaker, both the cancer and the treatment posed a risk to Brad's ability to taste and to earn a living. Providence Cancer Institute oncologist Bryan Bell, M.D., D.D.S., FACS, carefully planned Brad's treatment to attack the cancer in his tonsils while sparing his taste buds. "Because of Brad's profession, we tailored his care to reduce side effects by using minimally invasive robotic surgery and focused radiation," said Dr. Bell.
Surgery was scheduled for Christmas Eve, followed by 30 days of radiation and a second surgery. The treatment made
Brad tired and weak, but his goal was to feel well enough to attend every one of their son's baseball games. On a cold Saturday in March, not only did Brad make it out to the opening game, but he got to watch his son hit a home run.
Four years later, Brad continues to be cancer free. To express their gratitude to Dr. Bell and Brad's care team,
the McLeroys released 75 cases of the specially named Providencia pinot noir. Proceeds from wine sales benefit
Providence Cancer Institute to help fund cancer research and patient services.
Kathleen guided the Providencia label artwork that includes blue hues that fade into white. "The gradient of blue
reminds me of the emotions associated with cancer. Initially you feel the heaviness and weight of it all. But with support, incredible doctors, hope and strength, you begin to feel lighter, one day at a time."