Volunteer with inoperable cancer still giving hope to others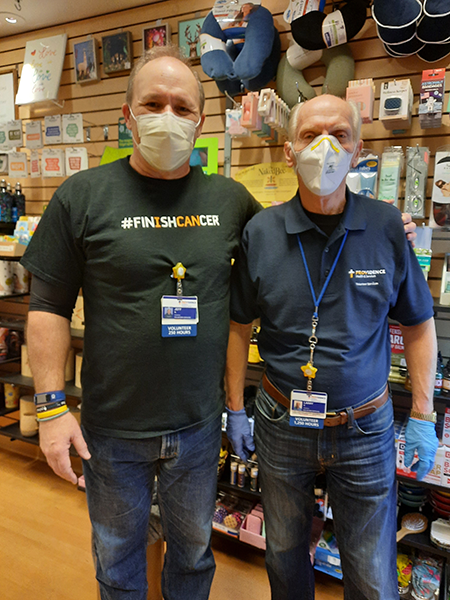 You don't meet someone like Jeff very often. Amid a cancer journey that spans more than 20 years, he exudes a contagious zest for life.
In 2002, Jeff lost his dad to prostate cancer. More could have been done to prolong his life, but his father was of a generation where some people avoided seeking treatment or support and preferred to manage their disease in silence.
Eighteen months later, Jeff learned he had neuroendocrine cancer. More than 30 tumors were spread throughout his digestive tract, causing agonizing spasms. But as scary and painful as Jeff's diagnosis was, he had access to multiple leading-edge treatment options at Providence Cancer Institute.
Half of the tumors were removed by surgery. The remaining tumors reduced in size after chemoembolization and radioembolization – targeted therapies that inject chemotherapy drugs and glass radiation beads into the blood stream near the tumors. Monthly injections alleviate the side effects of living with a partial digestive system.
Reflecting on his father's silent battle with cancer, Jeff wanted to share his own hopeful story with others – to let them know they are not alone. Today he is an award-winning public speaker who has traveled the country and regularly volunteers as a patient escort at the Robert W. Franz Cancer Center at Providence Cancer Institute. "I get a big charge out of being there for people. I ask, 'How can I make this person's cancer journey be actually enjoyable for them?'"
Jeff has lived with cancer, gone on many adventures including a trip to Machu Picchu, and used his experiences to encourage others. But on Dec. 6, 2022, an annual check-up revealed that cancer has spread to his bones and is inoperable. "Up to this point in my cancer journey, I kind of knew what to expect. Now, I don't know anything."
But Jeff is not giving up hope. He may qualify for a clinical trial led by Providence oncologist and medical director of gastrointestinal oncology, Hagen Kennecke, M.D., MHA, FRCP. Dr. Kennecke is exploring a new treatment combination for patients with neuroendocrine tumors. If Jeff meets the strict criteria, he could take part in this innovative study here in his hometown.
At Providence Cancer Institute, over 70% of research is funded by philanthropy. To the thousands of generous donors who support cancer research, Jeff says, "Thank you for giving patients this opportunity to help finish cancer."