The little things mean a lot
The Providence Immediate Care - Gateway clinic is close to a homeless camp, so caregivers there keep a stash of socks to give to patients in need. When the pandemic hit, the stock of socks was quickly depleted.

Medical Assistant Jaime Armstrong wanted to build on the idea of giving out socks and include other essentials that people who are houseless often need and want. When her daughter was young, they spent a short time in a homeless shelter after fleeing a bad situation with her first husband. "I want them to know that they have somebody who cares, because I know the smallest thing in that situation helps so much," she said.

She named the packages CARES – Compassionate Awareness and Response with Essential Supplies. Each package usually contains socks, hand sanitizer, hygiene wipes, tissue, soap, a toothbrush, toothpaste and a snack.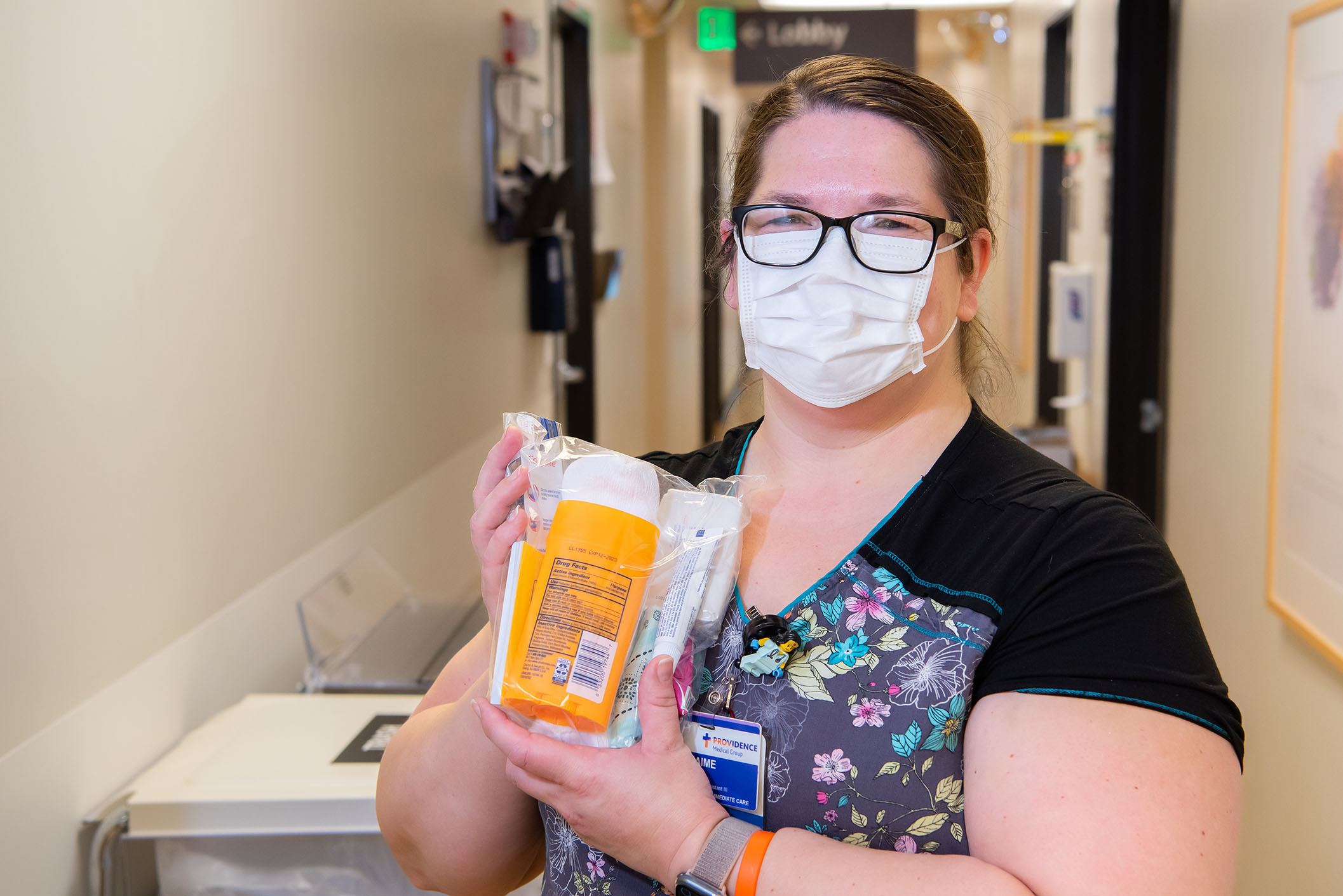 Depending on the season, Jaime may add in a hat and gloves or sunscreen and lip balm. Recently, a Street Roots City Resource book was added to the kit.

When Jaime began making the kits, she paid for the supplies herself. Some of her co-workers would contribute money or supplies and one coworker got toothpaste donated from a dental office where a friend worked. In 2021, Jaime's manager encouraged her to apply for a grant from Providence Portland Medical Foundation to help pay for supplies. To her surprise, she received a $3,000 grant, which should pay for about a year's worth of CARES packages.

"We've had patients who, when we offer them the packs, are surprised and excited. They are so thankful because we treat them with kindness and show them we care," said Jaime. Thanks to your generosity, Jaime can continue to provide those who need it most with the little things that make a difference.