Provider burnout declines steeply with 'wellness warriors,' other interventions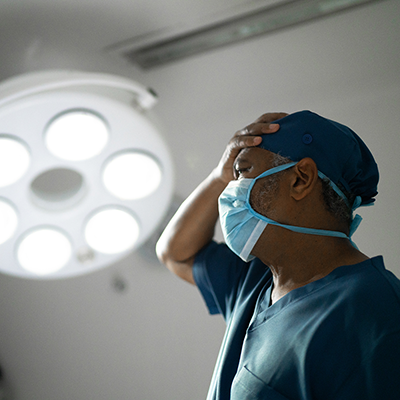 Thanks to an innovative wellness pilot program funded by Providence Portland Medical Foundation, hospitalists at Providence Portland Medical Center experienced a significant decrease in stress and burnout rate, even during one of the worst COVID surges.
Addressing provider burnout is critically important. According to the Association of American Medical Colleges, the U.S. faces a projected shortage of between 37,800 and 124,000 physicians within 12 years. The national burnout rate for all types of providers is 62%.

"Like many of my fellow providers and health care leaders, I've been worried about provider stress and burnout for a long time. My concern ramped up considerably during COVID when we were dealing with unprecedented fear, exhaustion and uncertainty," said Tricia James, M.D., a hospitalist and medical director of wellness, Providence Portland Medical Center. Dr. James led the pilot program and recently published an article about the results in the Journal of Internal Medicine.
Hospitalists are doctors and nurse practitioners who take care of inpatients within a hospital setting. They are among the providers most affected by caring for very ill COVID patients, experiencing significant stress and burnout.
Seeing her colleagues and medical residents in such distress "lit a fire" within her, said Dr. James, and she took action.
Approaching the problem
Armed with a $160,000 grant from the Providence Portland Medical Foundation, Dr. James and her hospitalist colleagues set to work. They designed and implemented a 12-month pilot study from October 2020 to October 2021 that tested a range of simple, yet effective strategies (or "interventions") to better support hospitalists.
"The results were positive, and the degree of impact was surprising given the immense challenges faced during that period," said Dr. James.
In the post-intervention survey, the Providence Portland intervention group reported 32% burnout, compared to a control group of other Providence hospitalists that reported a 56% burnout rate. The experiences of the control group were similar to national trends during the same time period.
Successful interventions
The Providence Portland hospitalist group adopted several successful strategies to combat burnout, including:
Three hospitalists were appointed and trained as "wellness warriors," who worked to identify and address stressors affecting the hospitalists.
Online COVID groups met regularly to share information, address stressors and build community.
A certified coach offered one-on-one coaching, which was used by about 38% of the hospitalists.
Safe outdoor social gatherings were held for hospitalists and their families, including special Zoom social hours to welcome new hospitalists.
Small tokens of support were given, such as lunches, mini-massages and small gifts during COVID surges.
What we learned
The No. 1 successful intervention was to help everyone examine and acknowledge the complex problems they faced every day – and then to acknowledge where they have control. "I can't overstate the importance of this concept," said Dr. James. "With so much uncertainty during COVID, it was easy to feel as if we had no control over anything. However, we learned there were many areas within our control."
Providence Portland Medical Center in July 2022 restructured its leadership team to incorporate a wellness leader (Dr. James) to better support its providers. This is the first Providence hospital in Oregon to make this commitment.
Dr. James said her goal is to share this work more broadly across Providence. "This has the potential to truly transform our workplaces and health care organizations as a whole," she said.