Murdock Trust grant awarded to Earle A. Chiles Research Institute for leading-edge lab technology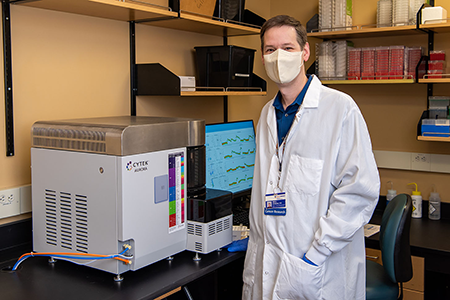 One of the best ways to cure advanced cancer is to tailor each patient's therapy to their specific tumor.
At Earle A. Chiles Research Institute, a division of Providence Cancer Institute, our scientists use specialized equipment to conduct cellular and molecular analyses of each patient's tumor. Based on this information, we select therapies with a high likelihood of killing tumor cells while sparing normal cells.
Thanks to the M. J. Murdock Charitable Trust and Providence donors, we have the new Flow Cytometer Suite, which provides the latest technology in tumor analysis and can analyze a patient's tumor in less time and in greater detail. The Cytek Aurora can show 45 unique proteins on a single cell while previous equipment could show only 15 proteins at a time. The accompanying cell sorter can collect data on 30 proteins at a time and capture live cells for future testing.
"These instruments allow our research team to characterize thousands of unique immune cells within each patient's tumor, which helps us develop more effective cancer treatments for patients," says William Redmond, Ph.D., director of the Immune Monitoring Laboratory at Earle A. Chiles Research Institute