Empowering patients in labor and delivery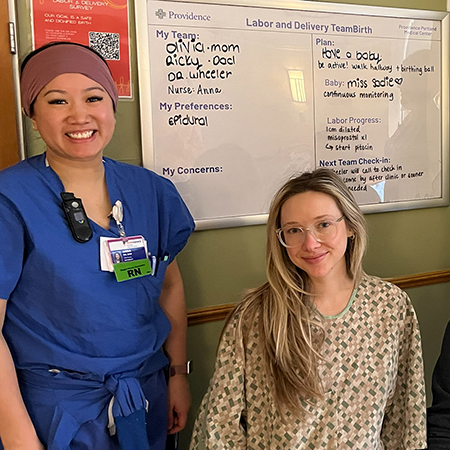 The U.S. has the highest maternal mortality rate among developed countries. Even with expert, compassionate pregnancy care, patients from vulnerable populations may not understand risks or feel comfortable voicing concerns
Providence is determined to address this health disparity. In 2022, the TeamBirth program launched at Providence Portland Medical Center. TeamBirth involves the patient in making decisions and removes gaps in communication. With your support, all caregivers attending to pregnant patients have been trained in the TeamBirth model.
The first step is to name every person on the TeamBirth white board, prominently displayed in all 17 birthing rooms, including the nurses, delivering provider and doula along with the patient's interpreter or social worker, when needed.
Patient concerns and preferences are recorded on the board, too – such as wanting an epidural for pain or being able to walk around as much as possible. "We want to empower patients," said Brendan Carroll, M.D., "and let them know they have a say in their birth plan."
The full team meets as often as needed to check progress, assess risks and discuss next steps. Every decision is recorded on the white board.
Providence labor and delivery nurse Rachana Rath, RN praised the TeamBirth model. She said the board lets patients see their concerns in writing and reminds all team members what the patient wants.
Going through labor and delivery with the TeamBirth process, one patient said, "I feel like they're really here for me. They care about my health and my baby's health."