Carr Subaru 'Shares the Love' with Providence Children's Health and medically fragile children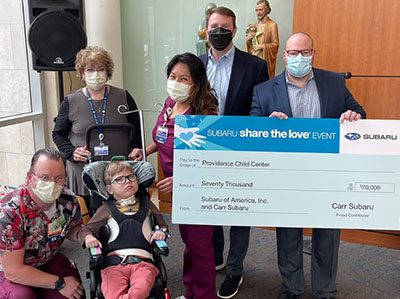 The most fragile young patients at Providence just received a lot of love from Carr Subaru Beaverton and Subaru of America -- $70,000 worth.
Subaru's "Share the Love" event was held from November 2022 to January 2023, during which time Subaru donated $250 to charity for each new vehicle purchased or leased. Customers buying or leasing the vehicles were invited to select a local charity from several choices.

One of the charities chosen by Carr Subaru Beaverton was Providence Children's Health, which includes programs such as the Center for Medically Fragile Children and Swindells Resource Center.
Carr Subaru's Share the Love donation will support specialized care provided at the Center for Medically Fragile Children for young people with profound disabilities. The donation also will provide funding for Swindells Resource Center, which offers information and education to parents and caregivers in Oregon and southwest Washington. This is the ninth year Carr Subaru has chosen Providence Children's Health as its local charity, bringing its total contribution to nearly $770,000.
"The Carr Subaru team is delighted to award $70,000 to Providence Children's Health through our Share the Love event," said Brad Preble, president of Carr Auto Group. "We know Providence's programs reach children in every corner of the state, and the impact from the medical care will affect lives for decades to come."
"We at Providence applaud the incredible efforts of our friends at Carr Subaru and Subaru of America for their longstanding partnership to help us provide vital medical care to children," said Sharon Walker, nurse manager at the Center for Medically Fragile Children.