"Best call I ever made" was to Providence Cancer Institute, says patient
Eric Tran, Ph.D., is on a mission. A research scientist at Providence Cancer Institute, he is taking leading-edge cancer immunotherapy research and treatment – which Providence has pioneered for nearly 30 years – to the next level.

Patients like Kathy Wilkes are eternally grateful to Dr. Tran, Providence Cancer Institute and the donors who support this important work. Kathy was diagnosed in 2018 with pancreatic cancer and later traveled from Florida to Portland, Ore., because she had read about Dr. Tran's research.

Dr. Tran's lifelong goal is to develop new, effective T cell-based immunotherapies for patients with cancer. Generous donor support helped bring him to Providence and established his Adoptive Cell Therapy Laboratory at the Earle A. Chiles Research Institute. Prior to being recruited by Providence in 2017, he trained at the National Cancer Institute through the National Institutes of Health.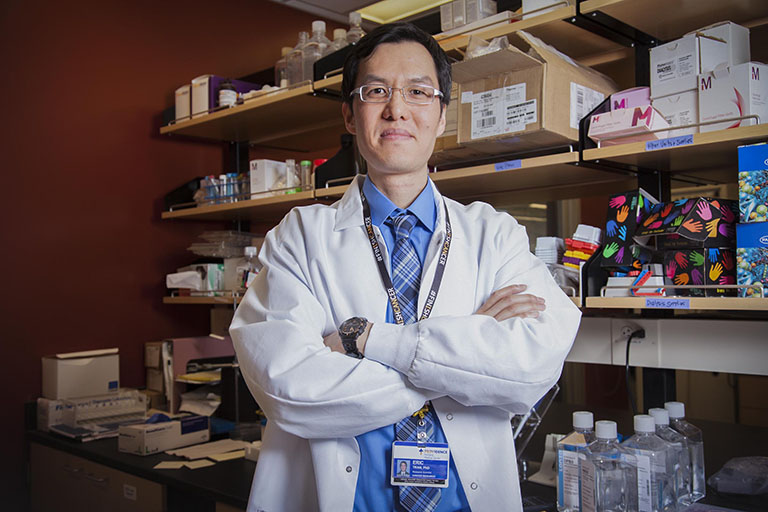 Dr. Tran's specialty is adoptive cellular therapy, a highly personalized type of cancer immunotherapy that enhances a patient's cancer-fighting immune cells called T cells. Providence Cancer Institute is one of a few centers in the U.S. with this expertise.

Kathy already had undergone chemotherapy, surgery and radiation in Florida. After learning her pancreatic cancer had spread to her lungs, she took action. "I called Dr. Tran and was elated when he called me back," she said.

Kathy flew to Portland and began her treatment with Dr. Tran and Rom Leidner, M.D. The results were "totally amazing," she said – and fast – and were featured in The New England Journal of Medicine. Before Kathy even returned home to Florida, her cancerous nodules had shrunk by 62%. She continues to get quarterly CT scans, and her nodules now have decreased by 72%.

"I know the outcome will continue to be fantastic," says Kathy. "The best call I ever made was to Dr. Tran."
Interested in learning more about available clinical trials? Please contact CanRsrchStudies@providence.org or call 503-215-1979.