Caring for our Children
Providence Newberg Medical Center
One in five children has a special health care need. With the help of donations, children and their families can get the care they need, close to home.
Give Now
Providence Cares for Kids
Parents want the very best for their children, so it's natural for them to be concerned if a child misses a developmental milestone. Community physicians and health care providers refer children to Providence Newberg Children's Development Institute to help identify and treat these developmental concerns.
Your gift will support the programs and services that impact and improve the lives of children and their families.
State-of-the-art technology
Technology funded through philanthropy is used to assess a child's developmental progress in gross motor skills, fine motor skills or speech/language skills.
Hippotherapy
Hippotherapy involves the use of horses as part of the prescribed physical or occupational therapy. Mentioning "horse" in the description would make it much more interesting to readers.
Specialized Care
Providence Newberg Children's Development Institute provides a comprehensive, family-centered approach to helping children with developmental needs.
Change Lives: Hippotherapy for Children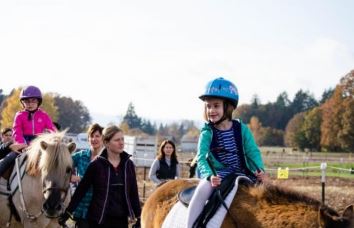 Thanks to philanthropy, our Providence Children Development Institute has been able to care for our most vulnerable population - children with special health care needs through hippotherapy.
Providence therapists and Forward Stride work together to help our pediatric patients achieve their highest potential. Our specially-trained occupational therapists apply the movement, rhythm and repetition of the horse as a treatment strategy to help patients achieve therapeutic goals and outcomes.