Cancer Support Services
Providence Newberg Medical Center
Providing cancer patients access to more services close to home.
Give Now
Give patients and their families reason to hope
Providence Cancer Institute is a leading cancer services provider in Oregon, bringing patients personalized care plans and targeted therapies. Residents in Yamhill County receive this world-class care close to home at Providence Newberg.
Your gifts can enhance cancer care at Providence Newberg Medical Center by expanding programs and offering innovative treatments to our patients close to home.

Oncology Nutrition
Thanks to generous donors, cancer patients at Providence Newberg have help navigating nutritional needs while undergoing cancer treatment.
Legacy Work
With support from donations, cancer patients with terminal diagnoses are given tools to make memories, connect with loved ones and facilitate first steps in the bereavement process.
Expanded Infusion Space
Because of donor support, Providence Newberg recently opened a new Cancer Center, increasing the number of infusion chairs from 12 to 25.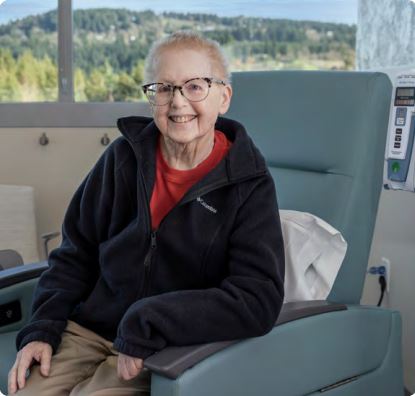 Sharon appreciates the new cancer center's design, including the beautiful views and the enhanced privacy.
Donors to the new Providence Cancer Institute Newberg Clinic transformed cancer care at Providence Newberg.
"It's like night and day compared to the old center," said patient Sharon Nelson. "When you first go in, it's so light and so roomy. It just kind of takes your breath away. It's much more private. There's more room for people in wheelchairs. And the view is absolutely panoramic. The windows wrap around, and you can look out and see all the trees."
The new center, which now includes a thoracic surgeon and a breast surgeon, significantly expanded cancer services available at Providence Newberg. The new diagnostics lab means that patients only have to wait 15 minutes to start treatment, compared to the hour wait before. There is also space for nutrition counselors and social workers who help patients navigate nonmedical services.