Help where it's needed most
Providence Newberg Medical Center
Support the hospital in the area that has the most immediate need to ensure that high-quality care continues.

Give Now
Keep Care Close to Home
Your gift to the Area of Greatest Need allows us to direct your donation to where it's needed most.
This fund provides Providence caregivers the opportunity to access unrestricted funds that will meet the most critical – and often unexpected – needs of our hospital. A gift to the area of greatest need provides Providence Newberg Health Foundation with flexible funds to ensure the latest technology, equipment, and patient-centered programs are available to our community.
Exceptional Care, Close to Home
Donations to Providence Newberg Health Foundation allows us to expand our services, offering exceptional care for the Yamhill County community.
Caregiver Support
Our community has rallied support for our caregivers, allowing Providence Newberg to offer a special respite room for caregivers.
Specialized Equipment
Through a special gift, a donor allowed Providence Newberg to purchase a new pulmonary function machine to give the best care to patients experiencing breathing difficulties.
Stress relief to help healing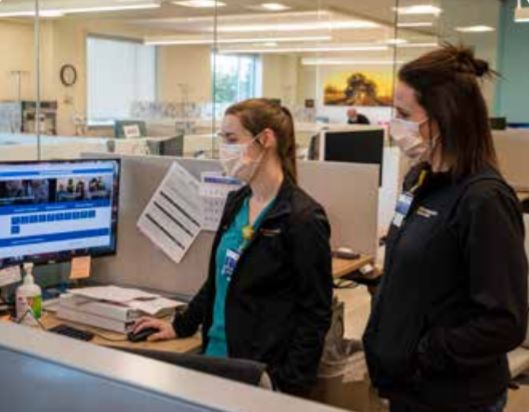 The new cancer center is bright and cheerful, providing relaxing views as patients receive treatment.
In 2020, Mike was diagnosed with a rare, aggressive form of non-Hodgkin's lymphoma. He said his experience at Providence Newberg has been top-notch. "The new cancer center is super clean, and I have nothing but great things to say about all the people there."
Mike is also thankful for the financial assistance he's received. He was hesitant to apply for help at first, "but everyone was overly kind and made the whole process very easy. The assistance has relieved a lot of stress and helped with my healing."