Donors to the new Providence Cancer Institute Newberg Clinic transformed cancer care at Providence Newberg.
"It's like night and day compared to the old center," said patient Sharon Nelson. "When you first go in, it's so light and so roomy. It just kind of takes your breath away. It's much more private. There's more room for people in wheelchairs. And the view is absolutely panoramic. The windows wrap around, and you can look out and see all the trees."
The new center, which now includes a thoracic surgeon and a breast surgeon, significantly expanded cancer services available at Providence Newberg. The new diagnostics lab means that patients only have to wait 15 minutes to start treatment, compared to the hour wait before. There is also space for nutrition counselors and social workers who help patients navigate non-medical services.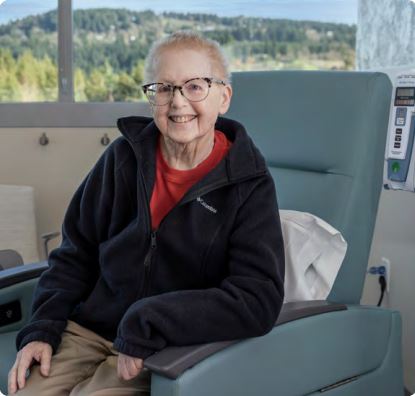 "We're able to offer a fuller spectrum of care," said Melissa Sayyah, clinic manager. "Before our offerings were much more limited, and patients would have to go to Providence St. Vincent for many services."
The clinic has been essential during the pandemic. "The larger space allowed us to social distance," said Melissa. "We would not have been able to be open at all without it."
Donors helped fulfill a promise to bring world-class cancer care close to home for Providence patients. "It's like a feature of a major hospital," said Sharon. "I don't have to leave town, and that's one of the very best things about it. Everything is right here now."