Community Teaching Kitchen
Providence Milwaukie Foundation
Healthy nutrition is essential to a healthy life. Our innovative teaching kitchen helps community members address food insecurity and incorporate healthy food into their diets.
Give Now
Good health through good food
It's hard to maintain a healthy weight, manage health issues such as diabetes or cancer treatment, and offer healthy food options to the whole family if you don't know where to start. Our innovative teaching kitchen works to create a healthier community through one-on-one outpatient nutrition counseling, regular screening for food insecurity and access to a navigator for individualized resources.
Our family market provides a wide variety of dry, fresh and frozen foods to help families who are facing hunger. Hands-on cooking classes provided by our chef teach our patients and community members how to prepare healthy, affordable meals, and our registered dietitian provides nutrition information and guidance to make healthy food choices. All of this educational support and access to food are provided at no cost to patients and community members in a supportive and non-judgmental environment.
Providence Milwaukie's Community Teaching Kitchen receives referrals from providers who have screened patients for food insecurity, and it conducts ongoing screening for everyone who comes in the door. Families in need of resources can access onsite resources, including in-person navigation and our Family Market.
By providing food and the skills to prepare it, we can meet the needs of our patients and improve the health of our community.
Your Impact
Powered by donations, the Community Teaching Kitchen aims to provide everyone with the skills and resources to put a healthy meal on the table. Our nutrition experts assist with creating personalized goals for improving health, navigating a diagnosis and managing nutrition.
Video equipment

When the pandemic hit and our facilities were closed, we purchased video equipment so we could offer classes online.
Home delivery
We partnered with Ride Connection to deliver food boxes to families who could not come to the facility due to COVID-19 restrictions.
Specialized classes
Gifts to the teaching kitchen allow us to offer specialized classes for health conditions such as diabetes and cancer. Philanthropy also makes it possible to offer some classes in Spanish.
Community Teaching Kitchen Program Services
List of classes and programs available from Oct. - Dec. 2022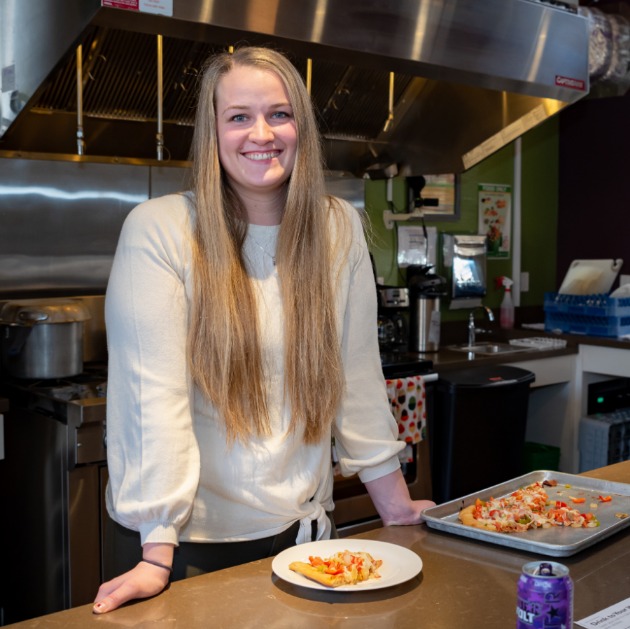 Jamie Waddle wants her children to eat well. "I want to be healthier, and I want my kids to be healthier since diabetes runs in both mine and my boyfriend's families. I want my kids to start now to have a broader palate."
Thanks to your support of the Community Teaching Kitchen, Jamie participated in a new Cooking Matters class for parents and caregivers of children up to age 5. Jamie has two young children. Her daughter is 4, and her son is 1. "My daughter has been really interested in learning how to cook," said Jamie. "This class came at the right time."
"I want to get my kids started on eating healthy foods and not junk food, and now is a good time," she said. "I've really enjoyed hearing what cooking tricks others in the class know. I learned what other people do for snacks, which inspired me to get rainbow carrots and make beet hummus. My daughter loved it because of all the colors."
Read More