New eye microscope fully funded by Leonard and Bernice Netzorg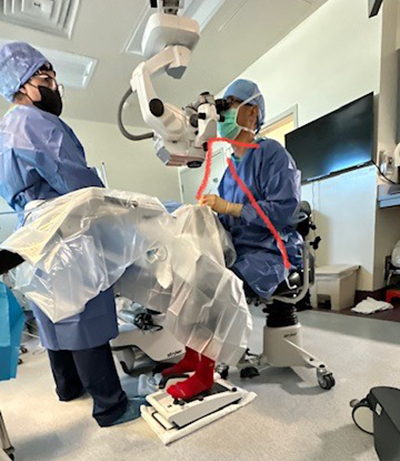 The Netzorgs were longtime Milwaukie residents with hearts for helping others.
Leonard was a lawyer who regularly provided pro bono legal services. Bernice was an active volunteer at the Ledding Library where she lovingly repaired book bindings. Together they gifted a portion of their estate to the Providence Milwaukie Hospital Foundation.
When Phil and Greg Netzorg were notified of their parents' bequest, they were not surprised. Both Leonard and Bernice received excellent health care at Providence Milwaukie Hospital and were especially grateful to have medical services so close to home.
Along with their wives Prudy and Sue, Phil and Greg chose to direct funds toward the purchase of a ZEISS eye surgery microscope. "We chose to support ophthalmology because Bernice had macular degeneration," said Prudy, "We saw firsthand how losing your eyesight impacts your quality of life and we wanted to prevent that for future generations."
Eye surgery requires precise visuals. The ZEISS digital microscope is premier surgical equipment that can provide detailed imaging for all regions of the eye. It will help surgeons care for more patients in less time while providing excellent outcomes.
The Netzorgs are proud to support Providence Milwaukie Hospital and their mission to offer the most up-to-date eye care to patients in Milwaukie and throughout Oregon.