Tree of Remembrance
Dec. 6, 2022
Join us as we remember those who have touched our lives.
Join us as we remember those who have touched our lives
Date: Dec. 6, 2022
Time: 5:30 p.m.
Location: Providence Benedictine Nursing Center
Join us for the 30th annual lighting of the Tree of Remembrance on Tuesday, December 6 at 5:30 p.m. Located at the front of Providence Benedictine Nursing Center, 540 S. Main St., Mt. Angel, the tree will be lit with hundreds of lights representing loved ones who have touched our lives and how, in remembering them, they continue to bring light to our world.
COVID precautions are still in place at Providence Benedictine, so the tree lighting and program will be held outside around the Tree. Please come and enjoy hot cocoa, hot cider, and singing Christmas carols together.
If you can't attend in person, the program, including the traditional Blessing of the Tree by a Benedictine priest, will be broadcast live at 5:30 p.m. on KBZY Radio, 1490 AM. Click the "Listen Live " link on the KBZY website to hear the program from anywhere in the world.
Our founders, the Benedictine Sisters of Mount Angel, started the Tree of Remembrance tradition. Sadly, the 39-foot Tree that has been at the center of this event for 29 years, snapped in half in last winter's windstorm.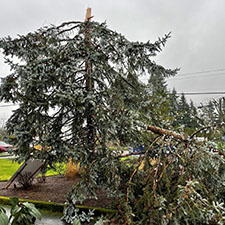 We will christen a new Tree of Remembrance at this year's event.

Dedicate a light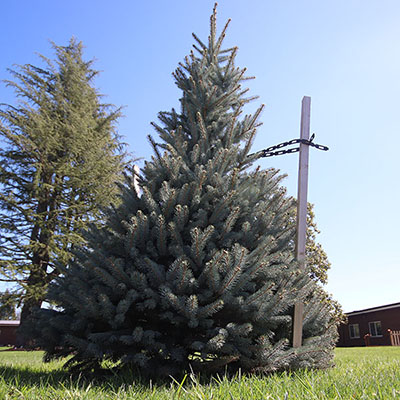 Make a gift to dedicate a light on our living Christmas tree.
Each $50 contribution dedicates a light to honor a life remembered and all contributions go to support our Mission of caring for those in our community who are elderly and vulnerable.
The lighted Tree of Remembrance will be here for you to visit on our campus throughout the holiday season.
A sign near the tree will list the names of all those for whom lights on the Tree are dedicated.
Thank you to our sponsors

---
Star of Wonder
Anonymous (1)
Silver Bells
Andrew Ulven
Joy to the World
Anonymous (1)
Beutler Farms
Catholic Community Services
Chuck Eder Farms
Clem J. Butsch Insurance
George Packing Company, Inc.
Kathy Eder-Deshon & Dale Deshon
Rava Farms
Oh, Christmas Tree
Eder Bros.
GEM Equipment of OR, Inc.
KJ Farms Inc of OR
Long Bros Building Supply Inc.
Knights of Columbus Silverton Council 5416
The Grant Company
White Christmas Tree Farm & Nursery
Valley Ag
The First Noel
Catholic Daughters of the Americas Court Marion 718
Duane & Debbie Eder
Roberts, Ring & Fischer Wealth Management, Inc.
Kathy & Greg Wilmes
Business & Community Sponsors
White Tree Farm
Mike and Ruth Rava and Family
Yes Graphics