Juan Young Trust: Providing decades of support for young Oregonians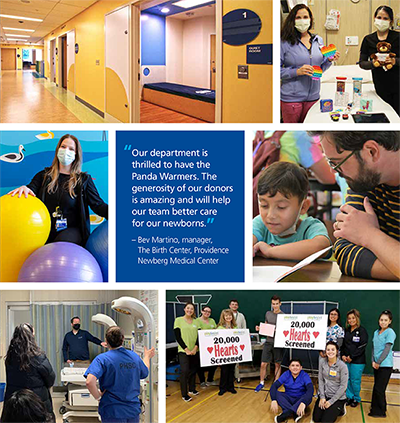 For three decades, the Juan Young Trust has helped support children and families who come to Providence for their care. Because of the trust's support, young Oregonians have better opportunities to grow, learn and thrive.
Since 2000, the two divisions of Juan Young Trust, East and West, have contributed about $1million through nearly 100 gifts throughout Oregon, including in the Medford, Newberg, Hood River and Portland metro areas.
Supporting children and families during difficult times
Sometimes young patients and their families need extra help, and the Juan Young Trust
has stepped in to support critical needs.
The trust has provided funding for many projects, including:
Camp Erin – a grief camp for children throughout Oregon who have lost a loved one
Specialized equipment – Panda Warmers (specialized, thermal-controlled bassinets) at Providence Newberg Medical Center for babies with complicated health needs
Sensory spaces – adaptable, child-centered areas that welcome and calm children who are facing medical procedures
Heart screenings – significant support for the Play Smart program at Providence St. Vincent Medical Center, screening nearly 3,000 kids for heart problems in 2018 and funding a school outreach specialist
Clackamas County programs – includes funding for a children's psychiatric emergency room at Providence Willamette Falls Medical Center, a program to teach parents how to reduce their children's fevers, meals for children and families experiencing food insecurity, sensory spaces and support, and occupational therapy for young psychiatric patients
Shaping healthier communities

Thanks to the Juan Young Trust, more Oregon children and families have received compassionate, exceptional care.