"This is the boldest climate goal in health care in the United States. We are proud of this work and committed to creating and supporting healthy communities wherever we serve. I'm going to put my shoulder behind whatever is going on in this area and I hope you will all join me, as together, we build Health for a Better World."
—Rod Hochman, M.D., President & CEO at Providence, Chair of the American Hospital Association
At Providence, our heritage and values are core to our work and drive us to strive to care wisely for our people, our resources and our earth, to achieve our vision of health for a better world.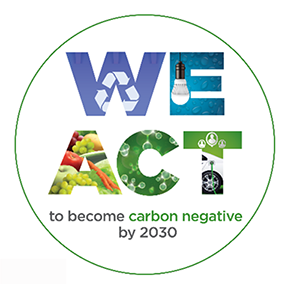 U.S. health care contributes 8.5% of the nation's greenhouse gases, and as one of the largest health care systems in the nation, we bear significant responsibility to mitigate the impact of our operations and benefit our patients, caregivers and the planet.
We are committed to becoming carbon negative by 2030 by improving environmental determinants of health, such as air quality and water pollution that may contribute to many chronic and acute health conditions.
Becoming carbon negative will require cultural transformation across our family of organizations. To achieve our goal by 2030, we created the WE ACT framework to address over 80% of our estimated carbon footprint, focusing on Waste, Energy/water, Agriculture/food, Chemicals and Transportation.
The escalating global climate crisis is harming human health and wellbeing, especially for those who are poor and vulnerable. With your support, we can make a significant positive impact on the health of our communities and our world.
Donate Now
---
With your support, Providence can mitigate the impact of our operations to benefit the health of our patients, caregivers and the planet. Thank you for your generous consideration.
Medical Surplus Recovery Organization

Your support of Providence's Medical Surplus Recovery Organization helps reduce medical surplus waste by donating supplies to the world's underserved communities desperately in need of those supplies.