When Giving Gets Personal—Why Michèle Gives to Institute for Human Caring
Michèle Manning Herman is a senior program manager at Providence—and a committed donor. For her, giving to Providence's Institute for Human Caring is more than a way to honor the patients she serves— it's also a way to honor the life of her beloved brother.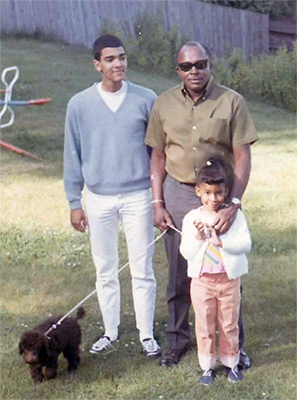 Michèle as a child with her brother, Vern, and Uncle Hank
Growing up in Seattle, Washington, Michèle always had a soft spot in her heart for her big brother, Vern. A lighthearted soul and gifted craftsman, he could always be counted on to keep the family entertained with his antics. "During the holidays, my mom would make all these pies, and Vern would steal his favorites and hide them—especially the lemon ones," she laughed. "He was definitely the light of our family."

Vern had battled cancer several times over the course of his life, but around eight years ago, it became evident that his fight was coming to an end. The entire family was heartbroken—but for Michèle, the experience of sharing her brother's final days in hospice was also beautifully profound.
"The staff at the hospice center seemed to know exactly what we needed at any particular moment, and the grace that they gave us to help my brother on the rest of his journey really moved me," she said through her tears.
Paying it forward—and giving back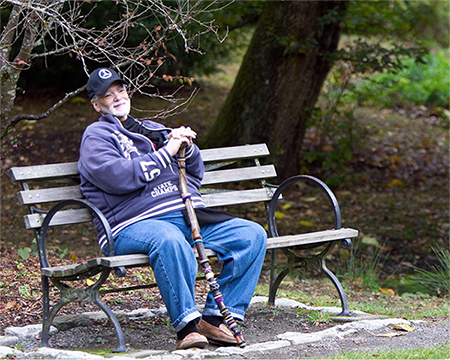 Vern enjoying nature and a moment of peace
Working for more than 20 years at Providence, Michèle was already serving her community in the very nature of her work. But after her brother's passing, she felt compelled to do even more. One day at a Providence leadership meeting, she heard Ira Byock, M.D., FAAHPM, Founder of the Institute for Human Caring (IHC) and Providence Senior Vice President for Strategic Innovation, speak and realized just how much the Institute's passions and priorities aligned with her own.
As Dr. Byock explained in the meeting, the Institute focuses on whole-person care, including mind, body, and spirit. "We care for people in ways that honor their inherent human dignity," he explained. "We believe that sovereignty over illness and dying belongs to patients and families, so we do whatever we can to align our care with their values and wishes."
That message struck a chord with Michèle, who knew first-hand the importance of hospice and palliative care. "I knew that's where I wanted to focus my support, because I believe in what the Institute is doing so very, very much," she explained. "I want folks to understand that the word 'palliative' doesn't mean it's over, it means we're here to help you live the very best life you can."
"I can't think of a better way to re-engage with humanity"
Every month, a portion of Michèle's paycheck goes to the Institute—and whenever she gets a promotion or a raise, she makes sure to bump up her donation accordingly. The way she sees it, giving to the same organization that she works for makes perfect sense.
"For me, working at Providence is more than a job—it's a calling," she said emphatically. "I think it's really important that we do whatever we can to help support not only the communities we serve, but also the ministries that are a part of this great organization. That's why I would encourage any of our caregivers here to answer that call and donate."
Of course, Michèle also encourages outside benefactors to give as well, especially in the midst of the pandemic. "After the last two crazy years that we've had, I can't think of a better way to re-engage with humanity than by supporting the incredible work that the Institute is doing."
As for the memory of her brother, Michèle chooses to honor him not just from the office, but from the kitchen. "Every time I bake a lemon pie, I think of Vern," she smiled.
Watch Michèle speak about why she gives to the Institute for Human Caring.
Thank you. Your generous gift today helps our health care professionals nurture patients' emotional, social and spiritual well-being while tending to their physical needs.