Viewing Party for Ken Burns' "Hiding in Plain Sight"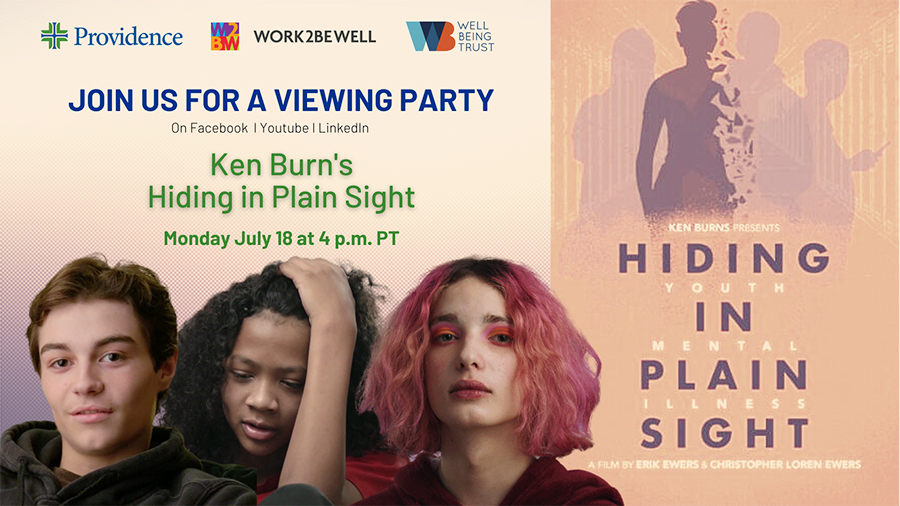 Providence, Work2BeWell and Well Being Trust invite you to a viewing party in celebration of the new PBS documentary, Ken Burns presents HIDING IN PLAIN SIGHT: YOUTH MENTAL ILLNESS, co-directed by Erik Ewers and Christopher Loren Ewers.
"Hiding in Plain Sight" highlights the mental health crisis among youth in America and follows the journeys of more than 20 young Americans from all over the country and all walks of life who have struggled with thoughts and feelings that have troubled—and, at times—overwhelmed them.
Billie Henderson, a founding member of Providence's Work2BeWell National Student Advisory Council (NSAC) was featured in this documentary and will attend all three viewing parties, the first taking place virtually on Monday, July 18, 2022. (Two other viewing parties are planned for September in Portland, Oregon, and Burbank, California.)

The virtual event also features a 30-minute screening, along with messages from the co-directing Ewers brothers and Tyler Norris, MDiv, Chief Executive, of Well Being Trust.

You can join this LIVE event on Providence Facebook,
Monday, July 18, 2022, at 4:00 p.m. PDT.
"Hiding in Plain Sight" is part of Well Beings, a national campaign from public media to demystify and destigmatize our physical and mental health through storytelling. It includes first-person accounts from young people who live with mental health conditions, the parents, teachers, friends and health care providers in their lives, and independent mental health experts.

You can listen to Billie share her personal journey at Providence Institute for Human Caring's Hear Me Now storytelling site.
Your gift to Work2BeWell supports teen mental health and wellness.