Providence's Heart Transplant Centers Provide Lifesaving Services in Local Communities
In this story:
Providence Sacred Heart is among the first in cardiac care to perform a successful Total Artificial Heart transplant.
Providence Heart Institute at St. Vincent Medical Center earns certification for its extensive infrastructure for delivering safe and reliable care for heart transplant patients.
---
A Total Artificial Heart (TAH) Gives Greg Soumokil Time with Family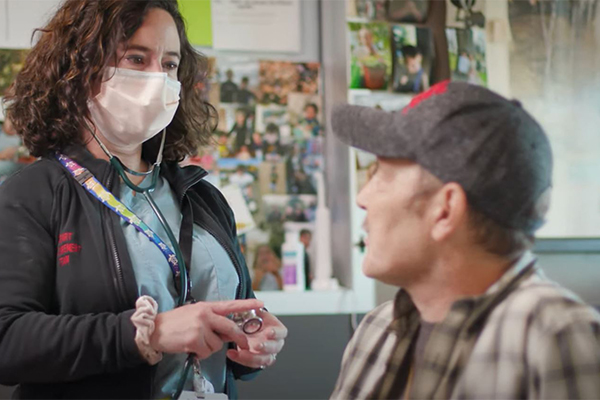 Providence Sacred Heart in Spokane, Wash., offers some of the greatest health care the world has to offer, and one local man now has a second shot at life because of it. Greg Soumokil had spent nearly 100 days in the intensive care unit when his remarkable team of doctors performed the SynCardia Total Artificial Heart (TAH) procedure to keep him alive until a donor heart transplant comes through.
The innovative surgery has allowed Soumokil to return home. His new artificial heart replaces the lower ventricles that pump blood to the body. Unlike other mechanical circulatory support devices, the TAH replaces both sides of the failing heart. A portable driver small enough to fit inside a backpack powers the artificial heart, which gives discharged patients like Greg more freedom.
"Greg's progress is exciting, and we are so happy to see him go home to spend time with his family," says cardiac surgeon Dr. Cristy Smith. "Our team is humbled and grateful for this opportunity to perform such an innovative procedure and to be a part of Greg's life in this way."
Today, Soumokil is one of only 10 people in the nation—and 28 in the world—to have a Total Artificial Heart. That artificial heart, at just 13 pounds, is his lifeline. "They call it the freedom driver," he says. "Without this freedom driver that keeps my heart pumping—it's a pneumatic pump—none of this would be possible. I'm walking, talking proof that a person can live with a Total Artificial Heart."
Soumokil is currently waiting for a combined heart and kidney transplant, which will take place at Providence Sacred Heart Medical Center when the organs become available. Until his organ match, he'll be enjoying time at home with his wife, grandkids and dogs.
Read more and see Greg's video story.
St. Vincent Medical Center Performs 15 Heart Transplants in its First Year, Receives Certification

Providence Heart Institute's heart transplant program, the largest of its kind in Oregon, also has received certification from the Centers for Medicare & Medicaid Services (CMS). The certification came following a rigorous five-day review of the program by the Oregon Health Authority. The review looked at the outcomes of 15 heart transplants performed at Providence St. Vincent Medical Center over the past 11 months.
"Reviewers were impressed with extensive infrastructure that has been created to support this program," said Dr. Dan Oseran, M.D., executive medical director of Providence Heart Institute. "This is a reflection of the team's commitment to deliver safe and reliable care for these vulnerable patients."
"We are honored to be able to offer safe and reliable lifesaving services to our community's heart failure patients and their families." – Dan Oseran, M.D.
Heart transplant programs must perform 10 transplants before they can apply for CMS certification—which is critical for reimbursement as many patients are government insured.
Providence Heart Institute announced its intent to start a transplant program in March 2019, after nearly 400 heart failure patients who previously received care at Oregon Health & Science University transferred their care to Providence. Providence Heart Institute performed its first transplant in July 2020.