Providence Genomics Releases Preliminary Geno4ME Study Findings
In this story:
In the first six months of the program, nearly 23,000 potential participants were approached for Geno4ME participation
To date, just over 2,100 have actively consented through the online platform
Nearly 50% self-identify as Hispanic/Latino, Asian, Black, or more than one race/ethnicity
7% of participants had a screen-positive result with at least one clinically actionable finding
22% of those screen-positive participants with cancer/cardiovascular disease risk had no self-reported personal or family history of disease
Geno4ME is still recruiting patients, and analyzing longitudinal data from participants to understand how their genetic results may have shaped their health and health care.
---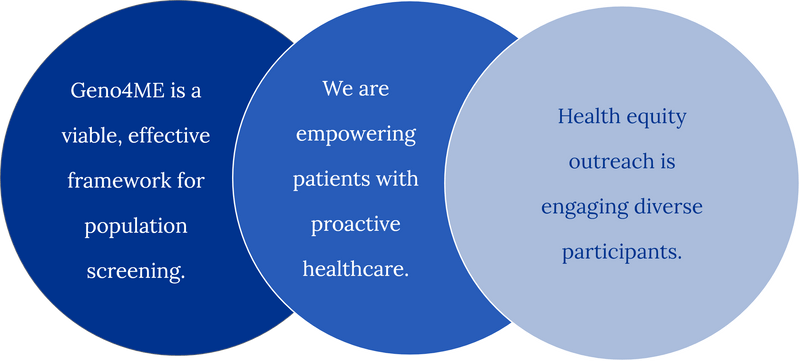 "The mission of Geno4ME is to truly provide genomic medicine for everyone at multiple points of care in our health system. We're doing this by finding innovative ways to meet patients where they are, identify their risk and integrate those findings meaningfully into the EMR (electronic medical record) so that their provider can provide seamless, personalized care." —Ora Gordon, M.D., M.S., FACMG, Clinical Director, Population Health Genomics Program, Providence

This full story was published on Providence Genomics site, October 2022.