Providence Carbon Negative Case Study
In this story:
Providence believes health is a human right, and is committed to improving environmental determinants of health, such as air quality and water pollution, as well as eliminating waste.
To achieve its goal of becoming carbon negative by 2030, Providence created the WE ACT framework to address over 80% of its carbon footprint.
---
On Earth Day 2020, Dr. Rod Hochman, president and CEO of Providence, announced the company's goal of becoming carbon negative by 2030. Despite the COVID-19 pandemic, Providence knew the need for climate action was immediate.
According to a recent study from Harvard University, "People with chronic health conditions, lower-income, and communities of color are disproportionately impacted by both COVID-19 and climate change, and pollution is at the heart of both problems." Providence's family of organizations believe that health is a human right, and the company is committed to improving environmental determinants of health, such as air quality and water pollution that may contribute to many chronic and acute health conditions.
WE ACT – A Framework to Address Providence's Carbon Footprint & Communicate Accomplishments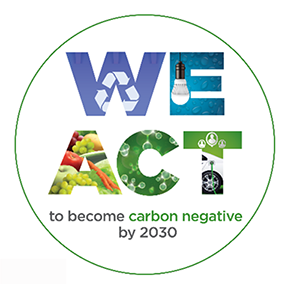 Becoming carbon negative will require cultural transformation across Providence's family of organizations. To achieve its goal of becoming carbon negative by 2030, Providence created the WE ACT framework to address over 80% of its estimated carbon footprint, focusing on:

Waste

Providence is committed to sending less than 50% of its total organizational waste to landfills or incineration. Some ministries, like St. Patrick Hospital in Missoula, Mont., have already achieved that goal, while others, like Providence Alaska Medical Center, are well on their way with creative ways to reduce or reuse waste.
Energy and Water

These resources are critical to health care, and Providence is working toward large-scale efficiencies. For instance, Providence Centralia Hospital installed the largest solar array on a hospital in Washington state. Seventeen Washington state sites are now receiving 100% renewable electricity. Providence Real Estate Strategy and Operations rolled out an effort to leverage existing technology to better control heating and cooling systems in medical office buildings based on an occupancy schedule, which saves energy primarily after hours. Hospitals in California saved water and costs by upgrading their scrub sinks to antimicrobial laminar flow devices so they flow at 1.2 gallons per minute while maintaining effective water pressure.
Agriculture and Food

Producing food includes the use of energy and water, and results in pollution from transportation and chemicals. About 10% to 15% of a hospital's daily solid waste comes from food. To counteract these contributors to its footprint, Providence is ensuring sustainable and socially responsible food purchasing practices are written into contracts with its major vendors. In addition, ministries like Providence Milwaukie Hospital and Providence Willamette Falls Medical Center in Oregon are composting food waste and purchasing locally grown food to reduce their environmental impact.
Chemicals

In the clinical environment, Providence has successfully transitioned to lower-emission anesthetics in four states and growing, achieving an 83% emissions reduction and a $1.79 million annual cost savings. To reduce the use of chemicals, Providence Tarzana Medical Center in Southern California has selected sustainable materials for their new patient wing currently under construction.
Transportation

From implementing hybrid work options to tracking emissions associated with business travel and supply chain activities, Providence's approach to transportation continues to be more sustainable. Looking back at 2020, business travel emissions decreased by over 95% as caregivers held meetings virtually due to the pandemic.
"Very often when we are making the right choice for the environment, we are also saving money." –Beth Schenk, Ph.D., RN, FAAN, executive director of environmental stewardship
Extending Reach

Providence's commitment to becoming carbon negative extends beyond the walls of its hospitals and clinics and into the surrounding world. Providence's goals are in alignment with President Biden's commitment to reduce emissions by 50% by 2030. Deeply committed to addressing health needs in the communities it serves, Providence is assessing and responding to climate-related health challenges as the company works to build climate resilience.
Providence's environmental stewardship leaders advance climate change initiatives across the U.S. Its leaders serve on the Catholic Health Association, the California and Washington Health Care Climate Alliances, and the U.S. Health Care Climate Council, and proudly partner with Health Care Without Harm and the U.S. EPA's ENERGY STAR program. Further, Dr. Hochman leads Providence's hospital community, serving as Chair of the American Hospital Association.
Caring for Patients and the Planet

The escalating global climate crisis is harming human health and well-being, especially for those most vulnerable. To uphold the dignity of each person, Providence must examine the often-unseen issues of social and environmental injustice and become a champion for them and all marginalized populations. As a deeply engaged community partner, Providence sees many opportunities to create health for a better world.