Pandemic Highlights Work to be Done to Improve Racial, Economic Health Equity
In this story:
Many Black Americans were frontline workers during the pandemic and lived in multi-generational households where there is greater risk of virus transmission.
Black Americans have higher rates of maternal morbidity and mortality and poorer outcomes in childbirth than Caucasians. Social determinants of health, including nutrition, education, and transportation play a large role.
Truly understanding barriers—like trust—can lead to better healthcare. Building partnerships in the Black community to provide education and resources is key to closing gaps in healthcare.
"If the families or community don't trust the healthcare system, haven't experienced it as being compassionate and fair to them, they might push off receiving healthcare until it's too late."
– Nwando Anyaoku, M.D., Providence Swedish Chief Equity Officer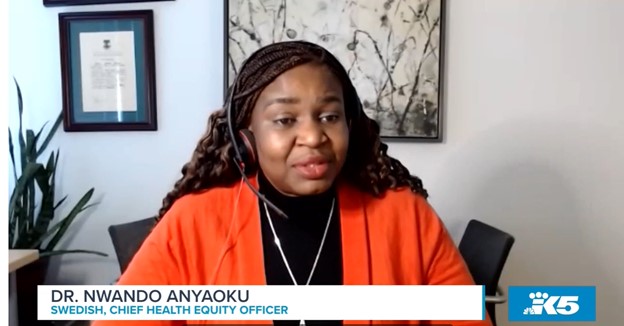 This story was published on the King 5 Seattle website February 24, 2022.