A Place Like Home
At Providence St. Patrick Hospital
Established in 1998, St. Patrick House offers affordable lodging for out-of-town patients and families during treatment at Missoula medical facilities.
Learn More
Your gift helps families stay close to their loved ones.
The Mission at St. Pat's House is to meet the basic human needs of a patient or family member dealing with a stressful medical situation. Our job is to provide a private space of comfort to rest, process, and plan during this traumatic life event. Our House meets fundamental needs – a clean and comfortable bed, a private bathroom space to take a shower, warm cookies and fresh coffee, and perhaps a kind smile and compassionate ear to listen to the day's struggles as the need to vent arises. Our guests come from different counties, states and countries, all with the same need – a place of respite.
Our Impact
The St. Patrick House serves as a bridge to healthcare in Missoula for many in the surrounding counties and states that would otherwise be unable to receive critical treatments due to high lodging costs in the city.
Serving The Need
The St. Patrick House has maintained critical access to medical care since the onset of the COVID-19 Pandemic. During 2020, a total of 1,117 guests took comfort within our walls as they or loved ones received treatment in Missoula.

Structural Stewardship
Through philanthropic support, the St. Patrick House has been able to make modifications to the existing structure over the years. Additions like our dining room and four bedrooms are done with Historical preservation top of mind.

Our Guests
"We cannot thank you enough for all of your kindness during our stay. You made a very difficult experience much easier! By coming back to the house it was like coming home where we could relax and gain strength through your kindness."


Welcome Home Fund

Welcome Home Fund was created to cover guests who cannot afford to pay the $35 nightly fee to stay at St. Patrick House while they or their loved ones are receiving care in Missoula. This ensures no one is turned away due to financial hardship.

St. Patrick House Endowment

St. Patrick House Endowment was created to accrue annual interest and bolster funds with the goal of becoming a self-sustaining. The Endowment Fund also offers a Montana Tax Credit incentive.

Operating Fund

Without donors like you, the St. Patrick House operational costs would be unsustainable. Operating Funds cover utilities, repairs, renovations, equipment, appliances, food, and so much more.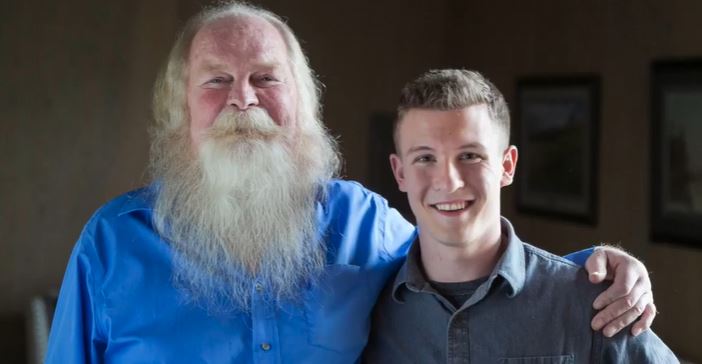 Kenny Flaherty, a guest at St. Patrick House and patient at Providence St. Patrick Hospital, and House Manager Aaron Hoppe examine the miracle of treating people as whole persons, rather than as a sum of their diagnoses, and reflect on the Irish proverb, "It is in the shelter of each other that the people live." Edit credit: Sean Collins
Mr. Kenny Flaherty, a recurring patient at Providence St. Patrick Hospital, has benefitted as a regular guest of the House for several years. He travels roughly 500 miles roundtrip from his residence in the eastern part of the state to receive a multitude of medical treatments in Missoula that are unavailable in his hometown.
Listen In
Questions?
Reach out to our dedicated St. Patrick House Staff