St. Joseph Medical Center
Polson, Montana
At St. Joseph Medical Center, we are a one-of-a-kind, community hospital, where you get more than excellent medicine.
Give Now
St. Joseph Medical Center excellence doesn't happen without you
Providence St. Joseph Medical Center is a 22-bed Critical Access Hospital in Polson, Montana established in 1916. At St. Joe's, our leadership, physicians and care teams are focused on meeting the growing and ever-changing healthcare needs of our patients and community. Through philanthropic support, Providence Montana Health Foundation ensures medical excellence for the residents of Flathead and Mission Valleys. Gifts to St. Joe's and PMHF remain local.
Our Impact
Excellent health care in Flathead and Mission Valley doesn't happen without you
Intensive Care Unit Addition
The cutting edge, life-changing ICU tower and equipment enables our Polson community to receive top level care by connecting virtually to ICU intensivists ensuring those in critical need have the care they deserve right at home.
3D Mammography System
The state of the art Genius 3D Mammography has the ability to detect breast cancer 15 months earlier and will allow St. Joe's to take care of patients in their own community while reducing stress and costs for the patient and families.
Digital X-Ray Suite
St. Joseph Medical Center upgraded to digital X-ray technology ensuring quicker diagnoses, better images, and shorter wait times for follow-up appointments for our patients who seek treatment from trauma, injuries, and emergent health conditions.

Area of Greatest Need

Help us remain flexible to address specific priorities and take advantage of unexpected opportunities so we can best serve our patients and families.

Emergency Services

Emergencies happen when you least expect them. At St. Joe's, we're ready, 24 hours a day, 7 days a week, our board-certified emergency medicine providers and advanced cardiac nurses are here to help the moment you walk through our doors.

Orthopedics

Here at St. Joseph Medical Center, we offer the full range of orthopedic services tailored to your specific needs. Our orthopedics care team is here to help you with everything from sprains and strains to broken bones and joint replacement.
St. Joseph Medical Center Grateful Patient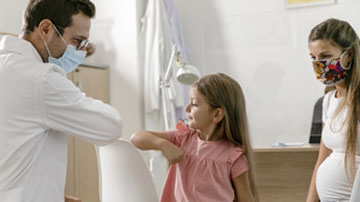 "I am coming up on the one year anniversary of my stay at St. Joe's, and was remarking on how memorable the experience was. I felt compelled to say thank you. I was honored to receive care there because my stay was made very comfortable and pleasant by all the people I had the chance to meet. The nurses and aides were so kind and careful, and even the kitchen staff stayed to chat with me and make very appreciated suggestions from the menu. Thank you for taking such wonderful care of me!"