Area of Greatest Need
Providence St. Patrick Hospital
Help us remain flexible in addressing specific needs so we can best serve our patients and families.
Give Now
Put your dollars where they're needed most
Your gifts to this fund are unrestricted and are used to help wherever the need is greatest, supporting a diverse range of critical healthcare projects and programs throughout Providence Montana, from state of the art equipment, advanced technology, or educational and training opportunities for our caregivers.
Giving the gift of health to your Montana family
Our Impact
Giving the gift of health to your Montana family.
Clinical Decision Unit
The Emergency Department Clinical Decision Unit opened October 2020, a 10-bed expansion to accommodate observation patients in private rooms equipped with telemetry bedside monitoring.
Biomedical Department Cargo Van
With the addition of a new cargo van, the Biomedical team is now able to consolidate their service tools in one mobile space and provide easy transport for medical equipment to multiple Providence Montana locations.
Blood Pressure Cuff Grant
A $1,200 grant funded the purchase of 20 blood pressure cuffs for patients in need of financial assistance to ensure they were able to receive accurate blood pressure readings at home.


Area of Greatest Need

Help us remain flexible to address specific priorities and take advantage of unexpected opportunities so we can best serve our patients and families.

St. Patrick Hospital Campus Expansion

We are taking bold next steps for our master campus expansion to ensure the highest quality services for the people of Montana.
St. Patrick Hospital, Health Care Excellence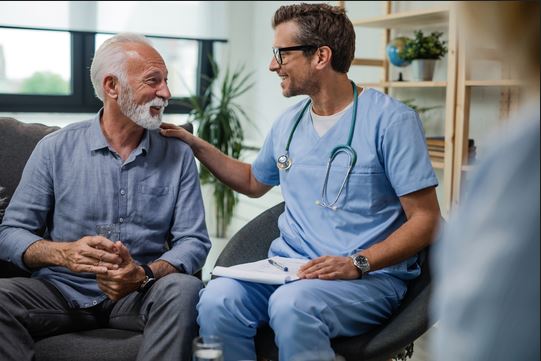 "After a sudden visit to the Emergency Department for my cardiac issues, I was overwhelmed with doctor's appointments, medications, and paperwork. I didn't know where to even start. My nurse took the time to explain everything to me, help me schedule appointments, and really ease my way through the long journey that lay ahead of me. I'm so very grateful for St. Pat's, they truly care for me in so many ways."
Give Now