Providence Regional Cancer Care
Northern California
Our Regional Cancer Care system offers medical, neurological and radiation oncology at four outpatient cancer centers in Sonoma, Mendocino, and Lake Counties.
Give Now
Providing expert cancer care, close to home.
Providence Regional Cancer Care holds multiple accreditations for the quality of care provided and proves that patients don't need to travel to a metropolitan area in order to receive the quality of cancer care that they expect and deserve. We are a Women's Choice-certified Breast Center and have the region's only dedicated inpatient oncology unit. Providence has earned accreditation from the American College of Surgeon's Commission on Cancer for providing the highest level of quality cancer care.
Our Impact
To help you fight cancer, we offer a wide range of advanced treatments and state-of-the-art diagnostic procedures.
Medical Oncology, Radiation Oncology & Surgical Services
Our team of medical oncologists, radiation oncologists, and surgeons offer decades of experience in providing multidisciplinary care within various outpatient and inpatient locations. Our teams treat a spectrum of stages and types of cancer with expertise and compassion. Our donors have supported essential diagnostic and treatment equipment.
The Breast Center
Our physicians are passionate about preventing and treating breast cancer. Our donors have outfitted our imaging department with 3D mammography, offering state-of-the-art screening and early detection. From surgery to oncology and through breast reconstruction and recovery, our caregivers walk hand-in-hand with our patients on their breast cancer journey.

Patient Support Services
Cancer can upend our lives. This is why we offer a spectrum of supportive services for our cancer patients. Some of the programs and services offered include patient support groups and nutrition counseling, genetic risk assessment screening, assistance with managing treatment protocols and schedules, and assistance for low-income patients.


TrueBeam Radiotherapy System

This enhanced equipment will provide our patients with advanced treatment options – including the treatment of brain tumors, 360-degree radiation with greater precision, and a reduction of treatment time and sessions.

Cancer Patient Support

Your support ensures that we can respond to special requests to assist cancer patients in obtaining treatment.
TrueBeam Radiotherapy System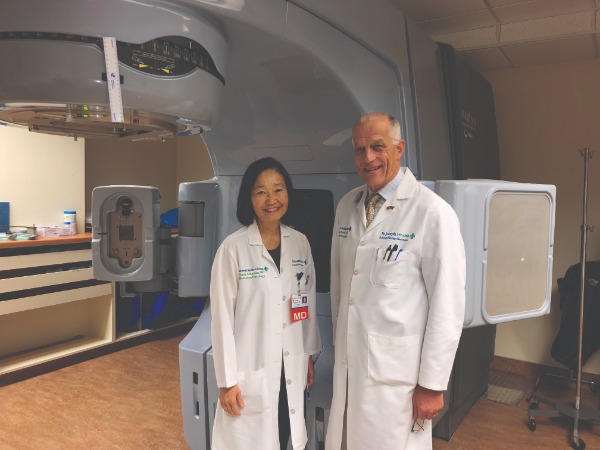 Late last year, Jake Norman, a 44-year-old father of two, came to Santa Rosa Memorial's Emergency Department with a severe headache, nausea and vomiting. Tests revealed a large, 8-centimeter tumor in his brain. Fortunately, our neurosurgeons were able to remove the tumor. He was referred to the radiation oncologists at Providence's Round Barn Cancer Center for post-operative radiation. Jake required 33 radiation treatments, which left him weak and debilitated. In addition, Jake's treatment meant that he had to wear a cumbersome molded mask that fit tightly over the head each day.
The good news is that Jake is now feeling great and his tumor has disappeared. He is grateful for the care that he received from his physicians and the staff at the Cancer Care Center. He said, "I couldn't be happier with the care I received. Everyone treated me as though I was a member of their own family. My only wish is that my treatments didn't take so long and that there were fewer of them. I missed a lot of my daughters' school and sports events."
Learn More