NeuroRehab Endowment
Providence St. Joseph Hospital Foundation
Those facing spinal cord injury, stroke, traumatic brain injury, Parkinson's, MS, and more will benefit from these expanded services.
Give Now
Keeping NeuroRehab Patients Close to Home
Mobility issues, fine motor skills, and speech are not always the biggest challenges for patients in need of neurorehab. A loss of personal dignity caused by these changes can be devastating and deeply affect a patient's motivation and will to go on.
Our highly trained and compassionate physical therapists, along with generous donors like you, are giving dignified therapy to patients in need of hope at the Harry Hardin Center.
Earnings from a permanent NeuroRehab Endowment would support:
Part-time Program Navigator/Patient Advocate
Rock Steady classes for patients with limited resources
Stroke Support Group services, facilitated by a social worker
Specialty Training/Advanced Technique Certification for therapists to keep care local
Community Class Development such as Adaptive Yoga, Tai Chi, dance, and more...
Benefiting from these services would include those facing spinal cord injury, stroke, traumatic brain injury, Parkinson's, and MS. Supporting immediate needs and the NeuroRehab Endowment will continue to build an enduring legacy that future patients can count on.

Stroke Support Group

Goal: $90/month

Our stroke support group is for survivors and their families to discuss issues about stroke with other people who have been in a similar situation. Help fund this important support group.

Rock Steady Boxing Scholarship

Goal: $200/month

Rock Steady Boxing (RSB) is a non-contact fitness program designed specifically for people with Parkinson's. This scholarship will allow someone who otherwise could not afford it the opportunity to at-tend classes.

Program Navigator

Goal: $2,400/month

The Program Navigator helps guide our patients through the healthcare system. This includes help going through screening, diagnosis, treatment, and follow-up of a medical condition.

Advanced Certification Course

Goal: $580/Course

Help cover the costs of certification classes incurred by healthcare professionals in the department by contributing to this fund.

Community Class Development

Goal: $2,000

Ongoing Support Needs - ABC

Unweighted gait re-training equipment

Goal: $50,000

Unweighted gait re-training offers balance and posture support for walking or running on any firm surface or rehab treadmill.
Regaining a Zest for Life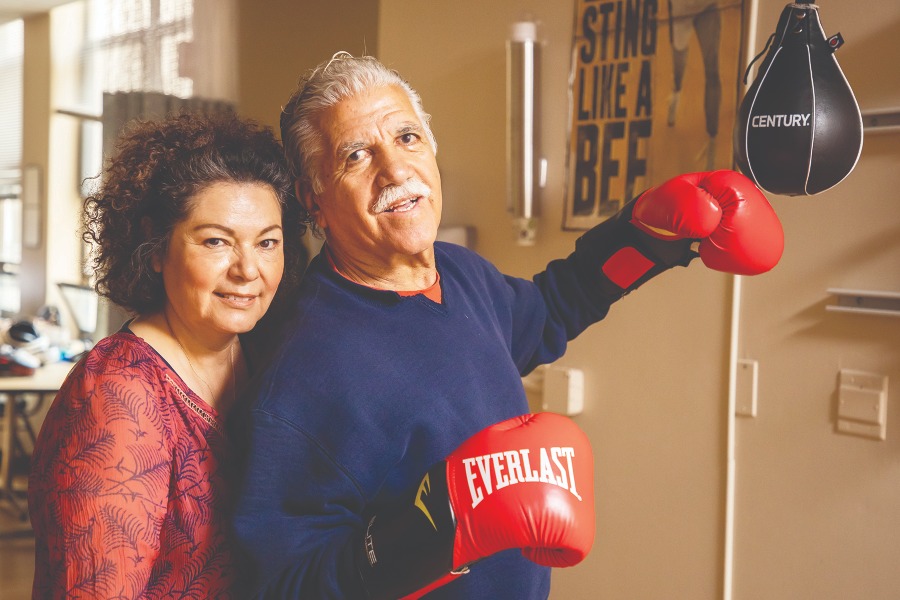 When he first received the devastating diagnosis of Parkinson's disease, Fortuna resident Harry Hardin was not sure life was still worth living.
Unable to do so many things he once loved and feeling unsteady on his feet, Harry thought he was down for the count. Then he met the physical therapists in rehab at St. Joe's.
Not only did Harry regain his strength, dignity, and zest for life, he started the Rock Steady Boxing program so that other patients in need of neurological rehabilitation could achieve the same success.