Caring for the Whole Person
Providence Health & Services Alaska
The Providence Mission means caring beyond just a medical diagnosis. It means caring for the overall wellbeing of each person.
Give Now
Recreation, Reflection, and Renewal
At Providence, our Mission of compassionate care means providing more than just medical care. It means addressing the wellbeing of each person by also focusing on social, emotional, and spiritual care. No matter what your beliefs, health and healing includes creating space and time for recreation, reflection, and renewal.
It might be as simple as being able to get a breath of fresh air outside your hospital room. Or it might be as meaningful as a chaplain's time spent with you when your family isn't able to visit.
The Greenhouse for Seniors at Providence Horizon House
Our Impact
Thanks to generous donors to Providence Alaska Foundation the health of our community has been impacted greatly.
A Bike for Seniors
The first Cycling Without Age tri-bike in Alaska was delivered to Providence Horizon House, helping senior residents feel the breeze on their cheeks during a summer bike ride. Thanks to advocacy by the local neighborhood, cyclists are now able to enjoy the new paved paths through the trees at Folker Park.

The Healing Garden at Providence Alaska Medical Center
Nestled in the backyard of Providence Alaska Medical Center, a natural space of healing was created for renewal and reflection. One patient shared their thanks by writing, "as a new chemotherapy patient, I was afraid I would be trapped in my room. I'm an active outdoorsman, and it was just a JOY to be able to walk through the beautiful garden. It was so good for my soul to be outside in nature, in a safe space, with beautiful flowers and gardens. THANKS for investing in this wonderful place!"
The Mary Troll PAWS Endowment
Since 2012, the Mary Troll Memorial Pet Assisted Wellness Service endowment has funded essential supplies and training for the beloved volunteer pet teams. Because who wouldn't feel better to see a tail wag at the side of your hospital bed?

Spiritual Care

Your gift to Spiritual Care ensures patients receive care that not only addresses their medical condition, but also focuses healing on their overall wellbeing.

Senior Services

Studies show that Alaskan Seniors are the fastest growing population in the nation. The State of Alaska Department of Labor and Workforce Development estimates that the population 65 and older will almost double by 2030. Your gift helps seniors maintain their health and independence.

The Healing Garden

Your gift to The Health Garden ensures a natural space of healing will remain for patients, providers, and visitors to enjoy a moment of fresh air and reflection.
John Mitsuru Ebisu
Providence Alaska Medical Center Endowment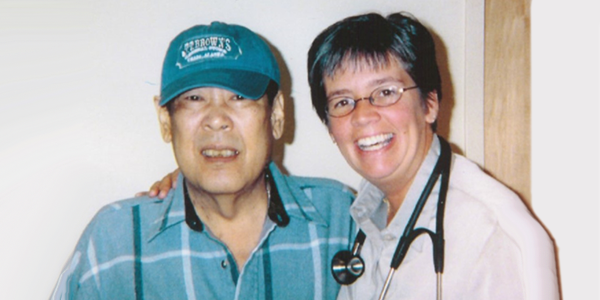 John Mitsuru Ebisu was born in Wailuku, Hawai'i. He came to Alaska in 1965 and fell in love with the state, becoming a very adept fisherman, photographer and trap shooter. A civil engineer who enjoyed helping build communities, John worked on highways, dams, bridges, buildings, and other structures all over Alaska and the world. When John became ill with cancer, he came to Providence to receive treatment and was met with compassion and kindness from his care team.