New Child Abuse Response & Evaluation Services (CARES) Facility Opens
When someone reports the abuse of a child in the greater Anchorage area, a Providence-sponsored program is there to coordinate a compassionate response—now with the construction of a new facility to better serve young victims and their families.

The Child Abuse Response & Evaluation Services (CARES) at Children's Hospital at Providence streamlines the care and investigation process for the state's youngest victims.

At the CARES facility, kids who suffer any type of maltreatment undergo medical, mental and forensic assessments by professionals specifically trained to work with young abuse victims-all in the same building. After the initial evaluations, the victims and their families can be referred for care or assistance to counselors and social service programs, many of which also have offices in the facility.

One of the advantages of having various agencies under one roof is that victim interviews can be done by a single person who represents multiple organizations. This eliminates the need for children to repeatedly relive their trauma through duplicate interviews for criminal complaints and child welfare agencies.

"All of the different agencies that are in the building are purposefully here because we're all working together to support children and families," says Jessica Nichols, CARES' assistant manager.

A place to feel safe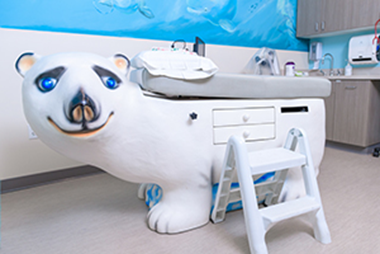 A polar bear pediatric exam table is one of the many child-friendly features intended to make patients feel safe at Alaska CARES.
Providence provided a $12.8 million initial capital investment for the CARES facility, much of that raised through a capital campaign led by the Providence Alaska Foundation. Community partners and donors helped raise more.
The facility was specifically designed to support families and put young patients at ease. Some of the child- and family-friendly features include comfortable waiting rooms so families in crisis can have their privacy. Colorful murals and other wall art create a safe, non-threatening environment.
Easing the way
The facility aligns perfectly with Providence's mission to smooth the way from treatment to recovery. For young abuse victims and their families, that can mean helping them through child protection and legal processes and connecting them with follow-up medical and mental health resources.
Since the program was founded in 1996, Alaska CARES has helped approximately 21,000 children escape from abuse and begin more positive and productive lives.

"After kids are seen here, sometimes they stand a little taller just because they've been able to share their story of what happened to them and they're not carrying that burden around anymore," said Nichols.